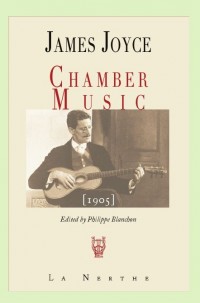 Chamber music (1905)
Editeur : Librairie La Nerthe
Langue : Anglais
The first edition of Chamber Music came out in 1907, following an arrangement
done by Stanislaus Joyce, James's brother. Nevertheless, James's initial arrangement, as we will show, had a very particular reason to be, and this is what we have reproduced here, just as conceived by Joycein 1905.
Joyce had a very precise intention and the discovery of his original project gives thesepoems a far more coherent place in the mass of the Joycean corpus. Here we have a perfect little novel that can be read as: from the birth of love, with its spiritual scope, to its carnal realization, that will lead, the passion waning, towards a possible friendship between the lovers, and to a nostalgic and tender understanding.
ISBN : 978-2-9168-6287-3
Fiche consultée 27 fois